To buy tickets for DIAMOND SHOW STOPPERS, please go to the Kings Theatre website by clicking on their sign below. You may also arrange tickets via any Society member. Thanks!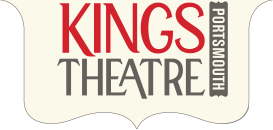 Curtain up at 7:30 pm - please be seated before this time.
(2:30 on Sat Matinee!)
PARKING? - It is suggested that you park free of charge after 6 pm in Waitrose carpark in Marmion Road, only 10 mins walk from the theatre, NOTE - Lower Levels only. Drop off pasengers near the theatre if required.
---
Location Map
View Larger Map