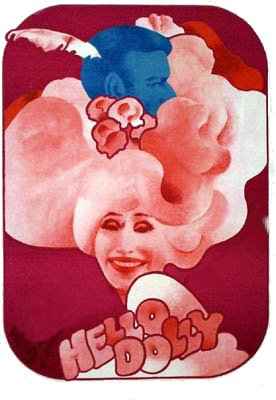 HELLO, DOLLY! - April 1988
HELLO, DOLLY! is the story of Mrs. Dolly Levi's efforts to marry Horace Vandergelder, the well-known half-a-millionaire, and send his money circulating among the people like rainwater the way her late husband, Ephraim Levi, taught her. Along the way she also succeeds in matching up the young and beautiful Widow Molloy with Vandergelder's head clerk, Cornelius Hackl; Cornelius' assistant, Barnaby Tucker, with Mrs. Molloy's assistant, Minnie Fay; and the struggling artist, Ambrose Kemper, with Mr. Vandergelder's weeping niece, Ermengarde.
"Money, pardon the expression, is like manure. It's not worth a thing unless it's spread around encouraging young things to grow."
HELLO, DOLLY! is an ebullient and irresistible story of the joy of living, glittering with happy songs, shining with loving scenes, alive with the personality of one of the most fabulous characters on the musical stage...Dolly Gallagher Levi!
Book by Michael Stewart. Based on The Matchmaker by Thornton Wilder. Music and lyrics by Jerry Herman. (Movie - 1969) Musical opened January 16, 1964 at the St. James Theatre, (New York) and ran for 2844 performances.
| | |
| --- | --- |
| Producer & Choreographer | Audrey Pring |
| Assistant Producer | Tony Doye |
| Musical Director | Alan Pring |
| Official Accompanist | Brian Sawyer |
| Stage Manager | Colin D Justice |
| Assistant Stage Managers | Frank Watson, Brian Dore |
| Sound | Peter Mitchell |
| Property Mistress | Maureen Francis |
| Property Assistants | Yvonne Jenkins, Sarah Cordell, Sarah Brotherstone, Sheila Justice |
| Wardrobe Co-ordinator | Carole Gennings |
| Publicity | Ron Newton |
| Front of House Photographs | Ivan Saunders |
| Ticket Controller | Anita Waterhouse |