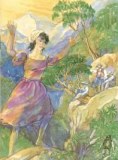 MAID OF THE MOUNTAINS - 1960
The Maid of the Mountains is a story set in a mountain bandit camp. A bandit leader, Baldasarre, and Theresa, who loves him, live there. The local Governor, General Malona, captures Theresa and promises her freedom if Baldasarre is captured. Theresa, on learning of Baldasarre's fickleness, exposes him, and he is sent to Devil's Island. All ends well after Theresa arranges for his escape with her to the mainland.
Book by Frederick Lonsdale. Lyrics by Harry Graham. Music by Harold Fraser-Simpson. Additional lyrics by F. Clifford Harris and 'Valentine'. Additional music by James W. Tate.