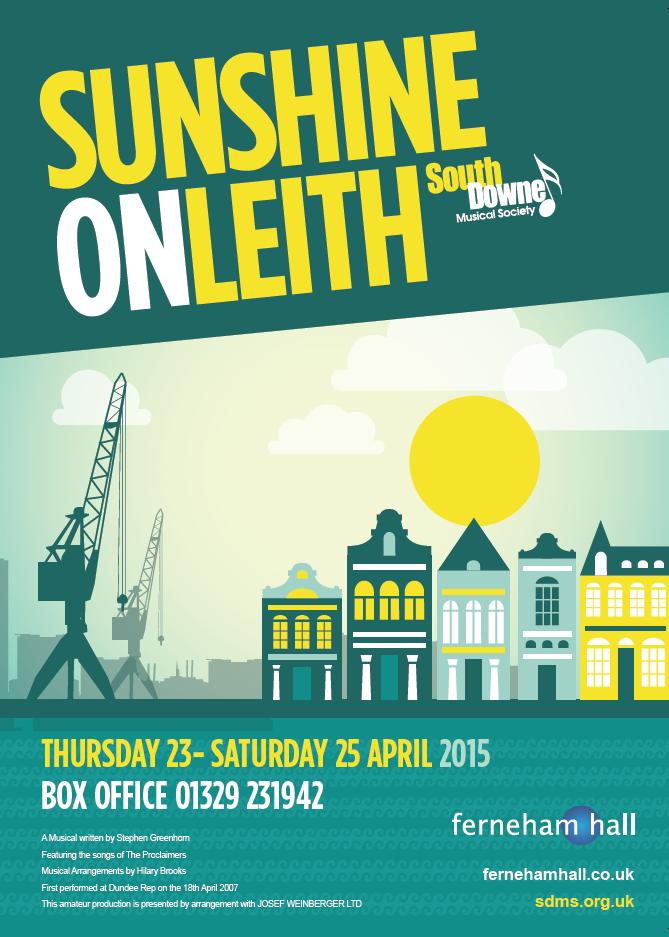 | | |
| --- | --- |
| | SUNSHINE ON LEITH |
| | Ferneham Hall, Fareham |
| | April 2015 |
The Story
SUNSHINE ON LEITH features the songs of The Proclaimers. It follows the highs and lows of Ally and his friend Davy as they return home to Leith, Edinburgh after serving their time in the army in Afghanistan.
Families, friendships and life are not all plain sailing in this funny and moving story about love and life. This multi-award winning show is a vibrant, energetic piece of musical theatre, loved by audiences and critics alike. Includes Let's Get Married, Oh Jean, Letter From America, Sunshine On Leith and of course the iconic 500 Miles.
---
CAST LIST
Davy :
Alex Hillman
Yvonne :
Lauren Kempton
Ally :
Darren Alderton
Liz :
Helen Stoddart
Rab :
Alan Jenkins
Jean :
Jane Pegler
Young Rab :
Ollie Heath
Margaret :
Kayleigh Millen
Barman :
Stuart Cocks
Instructor/Iain :
Neil James
Hazel :
Amy Devine
Eddie :
Brian Sweatman
Cleaner 1 :
Sue Rourke
Cleaner 2 :
Emily Rennicks
Cleaner 3 :
Emma Ross
Karen :
Amy Harrison
Moira :
Kelly Fuller
Jacqui :
Rachel Hogarth
Judith :
Charlie-Rose Lane
Annie :
Rachel Stanikk
Andy/Carl :
Simon Halstead
Sergeant :
Terry Winter
Innes :
Ben Horner
Dancers
Julie Davies, Rachel Davies, Becky Garnett, Sarah Powney, Eddie Manning.
Chorus
Julia Brown, Emily Dulake, Lauren Elkins, Lara Howard, Sophie King, Hollie Marshman, Hayley Milton, Rachel Munn, Becky North, Gill Wallace, Jonathan Shirlaw, Tom Hudson.
Production Team
Director :
Matt Sackman
Musical Director :
Alan Pring
Rehearsal Pianist :
Nickie Tabeart
Choreographer :
Kate Walsh
Repetiteurs :
Becky North, Jane Pegler
Stage Manager :
Kimberley Joyce
ASM :
Ben Dulake
Lighting :
Ian Pratt and ITP Lighting
Follow Spots :
Scott Dowell, Zach North, Helen Wilson
Sound :
Ralph Pegden
Props :
Helen Dulake, Myra Jones, Sheila Stoddart, Kate Walsh
Stage Crew :
Jayne Collins, Keith Dulake, Sophie Dulake
Video Projection :
Tony Neal
THE ORCHESTRA
| | | | |
| --- | --- | --- | --- |
| Reeds : | Steve Tanner, Rob Blanken | Trumpet : | Peter Pring |
| Guitars : | Dan Franks, Rob Lamont | Kit : | John Hammond |
| Bass : | Alan Ham | Keyboards : | Nickie Tabeart, Anna Pring |
click here for link to South Downe Photo Gallery