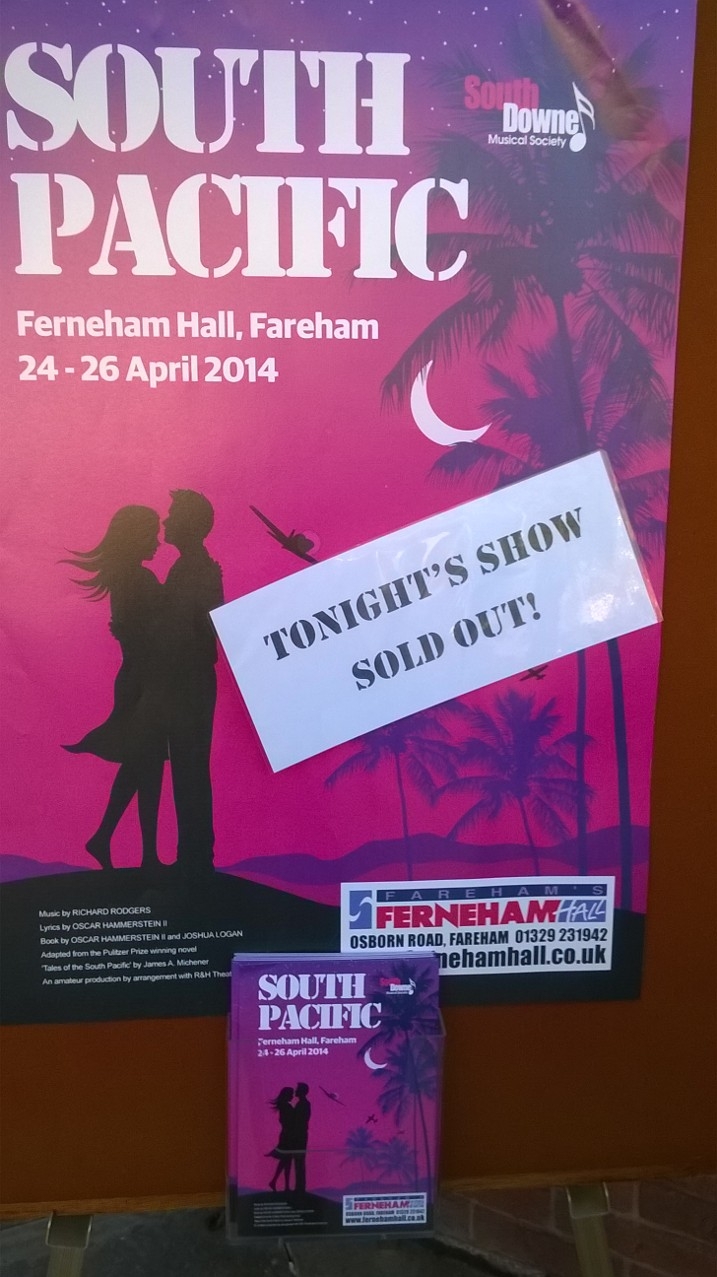 | | |
| --- | --- |
| ....... | SOUTH PACIFIC |
| | Ferneham Hall, Fareham |
| | April 2014 |
Music by Richard rogers; Lyrics by Oscar Hammerstein II; Book by Oscar Hammerstein II and Joshua Logan; Adapted from the Pulitzer Prize Winning Novel "Tales of the South Pacific"; An amateur production by arrangement with R & H Theatricals Europe Ltd
South Pacific is a musical composed by Richard Rodgers, with lyrics by Oscar Hammerstein II and book by Hammerstein and Joshua Logan.
While waiting for action in the war in the South Pacific, sailors and nurses put on a musical comedy show. ... the drama of South Pacific unfolds.
And then ...... can a girl from Little Rock find happiness with a mature French planter she got to know 'one enchanted evening' away from the military hospital where she is a nurse? Or should she just 'wash that man out of her hair'?
Bloody Mary is the philosopher of the island and it's hard to believe she could be the mother of Liat who has captured the heart of Lt. Joseph Cable USMC.
The story is backed by an outstanding musical score including some of Rodgers & Hammerstein's immortal songs:
"You've Got to Be Carefully Taught", "Younger Than Springtime"
"Some Enchanted Evening, "Bali H'ai"
"I'm Gonna Wash That Man Right Outa My Hair"
"There Is Nothing Like a Dame", and many more ...
---
We used a very modern minimalist scenery set, a sandy colour depicting a Pacific island. Audiences used their imagination with the help of a well produced lighting plot but concentration was on dialogue, acting and the usual high level of singing from principals and chorus. Another succesful show!
---
CAST LIST ............ to follow ....
---
Some photos of the cast ......... click thumbnails to enlarge.