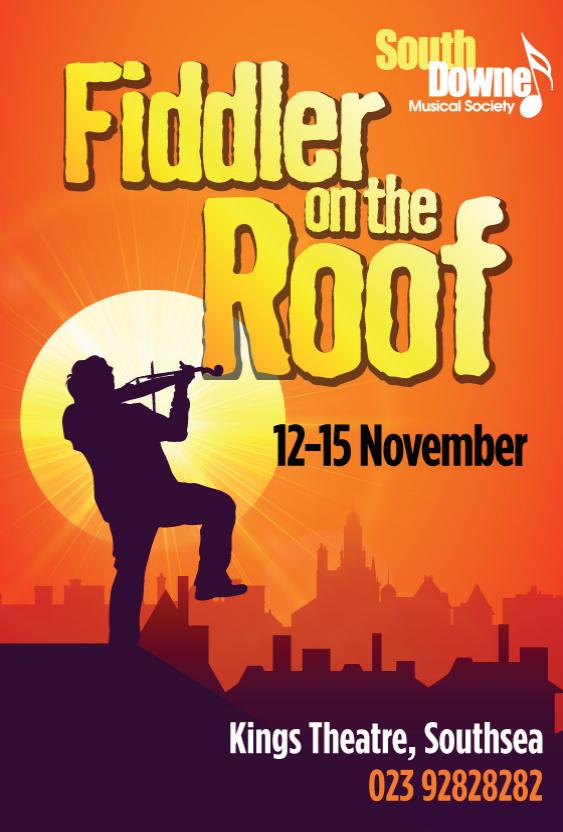 | | |
| --- | --- |
| | FIDDLER ON THE ROOF |
| | Kings Theatre, Southsea |
| | November 2014 |
Based on the Sholem Aleichem Stories By Special Permission of Arnold Perl; Book by Joseph Stein; Music by Jerry Brock; Lyrics by Sheldon Harnick; By Arrangement With Joseph Weinberger Ltd.
This was a special production for our President Audrey Pring as our long serving producer and choreographer. It was Audrey's last show with SDMS as a Producer, though she will remain of course as our Life President and continue to provide valued input into the running of the society to which she has effectively dedicated her life. Read more on our Press page.
The show was very well received by audiences and the Society have in turn received many wonderful comments from them:- "I had no idea that it would be so professional" ......... "You have so many talented principals" ........"What a wonderful orchestra" ...... "It was good enough to be seen in The West End!"
The Story
In the little village of Anatevka, Tevye, a poor milkman is trying to keep his family's traditions in place. The old ways of life are challenged when his daughters wish to marry for love rather than accept the choices of Yente the Matchmaker! So Tevye is faced with choosing between his own daughters' happiness and those beloved traditions that keep the outside world at bay. It is Tevye's love for his family, pride and faith that help him face the dangerous forces in Anatevka which threaten to destroy the very life he and his fellow villagers are trying to preserve.
FIDDLER ON THE ROOF is filled with a rousing, heartwarming score, including "Tradition", "Matchmaker", "If I Were A Rich Man" and "Sunrise Sunset". No other musical has so magically woven music, dance, poignancy and laughter into such an electrifying and unforgettable experience. Relive the tradition!
---
---
CAST LIST
| | | | | | |
| --- | --- | --- | --- | --- | --- |
| Teyve : | Danny Owen | Golde : | Sue Rourke | Yente : | Jane Pegler |
| Tzeitel : | Rachel Davies | Hodel : | Becky North | Chava : | Anneke Poppleton |
| Lazar Wolf : | Matt Sackman | Perchik : | Darren Alderton | Motel : | Simon Halstead |
| Fyedka : | Scott Dowell | Fruma Sarah : | Amy Devine | Grandma Tzeitel : | Megan Brand |
| Rabbi: | Tony Collins | Mendel: | Bill Price | Innkeeper: | Tom Hudson |
| Constable : | Jonathan Shirlaw | Avram : | Brian Sweatman | Sphrintze : | Lauren Elkins |
Female Ensemble
Hayley Beames, Laura Blake, Tanya Bourner, Julia Brown, Julie Davies, Emily Dulake, Sophie King, Hollie Marshman, Sara McGuire, Rachel Munn, Kayleigh Millen, Sarah Powney, Shelley Price, Trish Pring, Rachel Stannikk, Gill Wallace, Kate Walsh.
Male Ensemble
Neil James, Alan Jenkins, Cliff Jones, Eddie Manning, Zack Moors, Barry Nichol, Terry Winter.
THE ORCHESTRA
Violins :
Anna Pring
Matt Dennison ("Fiddler" on stage)
Nuala Land
Cello :
Graham Vaughan
Accordion :
Nigel McNestrie
Trombone :
Huw Llewellyn
Bass :
John Thomas
Viola :
Ruth McGibben
Clarinet :
Rob Blanken
Flute :
Helen Walton
Oboe :
Lucinda Willits
Horn :
Allan Mead
Trumpet :
Gemma Fuller
Percussion :
Mark Streather
Some photos of the cast ......... click thumbnails to enlarge.