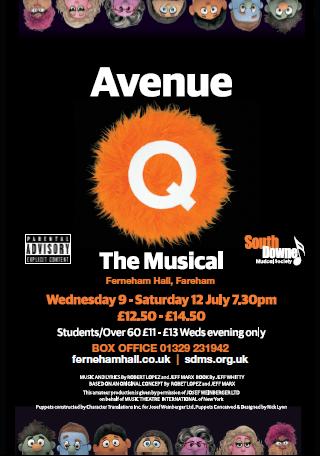 | | |
| --- | --- |
| | AVENUE Q The Puppet Musical! |
| | Ferneham Hall, Fareham |
| | Wed 9 to Sat 12 July 2014 |
Music and lyrics by Robert Lopez and Jeff Marx; Book by Jeff Whitty based on an original concept by Robert Lopez and Jeff Marx; This amateur production is given by permission of JOSEF WEINBERGER LTD on behalf of MUSIC THEATRE INTERNATIONAL of New York
Puppets constructed by Character Translations Inc. for Josef Weinberger Ltd. Puppets conceived and designed by Rick Lyon.
Not authorised or approved by the Jim Henson Company or Sesame Workshop which have no responsibility for its content.
AVENUE Q is not the most upmarket of New York streets, and is about as far away from Park Avenue as you can get, but it is home to some lively and off the wall characters performed by an unholy comedic alliance of humans and puppets! Princeton, a bright-eyed college graduate, has just moved to this neighbourhood as he desperately tries to follow his dreams and discover his ever-elusive purpose in life. A tiny bank balance, the distraction of a busty blonde and a variety of weird and wonderful friends and neighbours lead Princeton on a hilarious story of self-discovery.
Life may suck on AVENUE Q but being jobless, homeless or being politically incorrect are just some of the topics featured in the terrific songs of this show.
AVENUE Q was the winner of the 2004 TONY AWARD® for BEST NEW MUSICAL, BEST BOOK OF A MUSICAL and BEST ORIGINAL SCORE!
CAST LIST
THE DANCERS
Princeton :
Alex Hillman
Kate Monster:
Sally Goddard
Rod :
Ross Cobbold
Nicky :
Darren Alderton
Lucy the Slut :
Helen Stoddart
Trekkie Monster :
Alan Jenkins
Mrs Thistletwat :
Myra Jones
Blue Bad Idea Bear :
Becky Garnett
Yellow Bad Idea Bear :
Amy Devine
Newcomer :
Ben Horner
Ricky :
Danny Owen
SECOND PUPPETEERS
Nicky - Chris Smith; Treckie - Lauren Kempton/Laura Blake/Chris Smith; Mrs Thistletwat - Sarah Powney
THE HUMANS
| | | | | | |
| --- | --- | --- | --- | --- | --- |
| Gary Coleman : | Tatenda Madamombe | Christmas Eve : | Sue Rourke | Brian : | Stuart Cocks |
ENSEMBLE
Tanya Bourner, Megan Brand, Julia Brown, Julie Davies, Emily Dulake, Lauren Elkins, Lara Howard, Kimberley Joyce, Sophie King, Beth Marshall, Kayleigh Millen, Becky North, Anneke Poppleton, Rachel Potts, Sarah Powney, Peta Reading, Emma Ross, Charlotte Saunders, Rachel Stanikk, Kate Walsh, Luke Brand, Jonathan Shirlaw
font-size:
THE ORCHESTRA
| | | | | | |
| --- | --- | --- | --- | --- | --- |
| Woodwind : | Steve Tanner | Keyboard 1: | Nickie Tabeart | Keyboard 2: | Anna Pring |
| Guitar : | Dan Franks | Kit : | Hohn hammond | Bass : | Alan Ham |
SHOW PHOTOS
Some photos of the cast courtesy of BLITZ Photography ......... click thumbnails to enlarge.
Another lively company show, ensemble members enhanced the production we felt as the professional version only has about 7 cast. Yes a bit naughty in places but our audiences sang its praises and box office soared on last two nights! Something different for us this one - and for our supporters too but we will have also introduced new audience to our society for sure! Wednesday 9 to Saturday 12 July 2014.