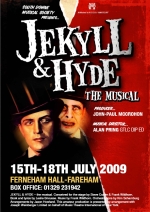 Jekyll & Hyde

July 2009, Ferneham Hall, Fareham
Sorry - this page is being developed but some photos are provided .....
Credits Conceived for the stage by Steve Cuden and Frank Wildhorn Book and lyrics by Leslie Bricusse Music by Frank Wildhorn Orchestrations by Kim Scharnberg Arrangements by Jason Howland
By arrangement with Joseph Weinberger
Performed at Ferneham Hall in Fareham in July 2009, directed by John-Paul McCrohon, Musical Director Alan Pring GTLC Dip Ed
An evocative tale of the epic battle between good and evil, Jekyll & Hyde is based on Robert Louis Stevensonís classic story about a brilliant doctor whose experiments with human personality create a murderous counterpart. Convinced the cure for his fatherís mental illness lies in the separation of Manís evil nature from his good, Dr. Henry Jekyll unwittingly unleashes his own dark side, wreaking havoc in the streets of late 19th century London as the savage, maniacal Edward Hyde.
click here for link to some Jekyll & Hyde photos ..South Downe Photo Gallery