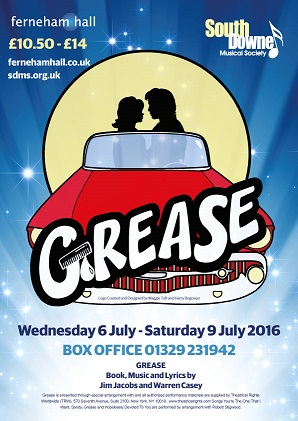 Grease
Ferneham Hall, Fareham
16 - 9 July, 2016
Books Music and Lyrics by Jim Jacobs and Warren Casey
By arrangement with Robert Stigwood we also performed the film songs: Sandy, Hopelessly Devoted To You, You're The One That I Want and Grease
Helen Stoddart directed this show for us, a long time member and her first time directing for us! She used the full extent of the hall. The car appeared from it's wraps into the centre of the audience seating. Various scenes were performed at the sides of the auditorium and the cast ran through the aisles. A stomping favourite, well performed and received!
---
Grease Programme - full cast listings etc
---
Click here the car for some of our GREASE photos ....
---