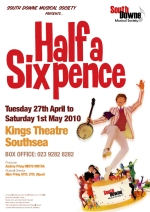 | | |
| --- | --- |
| | Half A Sixpence |
| | Kings Theatre, Southsea |
| | Tuesday 27th April to Saturday 1st May 2010 |
A musical based on the novel "Kipps" by H G Wells/p>
Book by Beverley Cross
Music and Lyrics by David Heneker
New version by Warner Brown "By arrangement with Warner/Chappell Music Limited administered by Boosey & Hawkes"
---
The Story
A modern adaption of the famous musical based on the H G Wells story of Arthur Kipps, an orphan, who lives and works with other apprentices for the cruel draper, Mr Shalford.
After learning that he is inheriting a fortune, Arthur tries to join the upper class and gets engaged to the wealthy Helen Walsingham. Soon though, Arthur realise that his true love is his childhood sweetheart Ann.
Arthur could lose all of his newfound wealth but will he manage to keep Ann and live happily ever after?
Containing classics from the original 60's show, including Half A Sixpence, Proper Gentleman, She's Too Far Above Me and of course Flash Bang Wallop!
---
| | |
| --- | --- |
| Half A Sixpence Programme extracts | |
Click here for some dress rehearsal photos ..... South Downe Photo Gallery - Half A Sixpence